BCSDH is supporting the business sector to focus on immediate action. The transition to climate-neutral operations and climate adaptation – for any company in any industry – is an important task, and a factor that significantly influences the competitiveness of the business sector. BCSDH helps companies to make concrete commitments and to find related business solutions.
Our aim is to support the leading domestic companies from several industries demonstrating their good examples and commitments, thereby encouraging domestic companies to make similar ambitious commitments towards a carbon-neutral economy.
NET ZERO ADVISORY BOARD
On January 18, 2021 the Net Zero Advisory Board has been formed in a uniquely wide collaboration with renowned experts, the primary goal of which is to promote and accelerate the process by which the Hungarian economy can become carbon neutral by 2050, thus taking an important step to stop climate change.
The Advisory Board is a cross-sectoral collaboration, consisting of representatives of Hungarian industry and business leaders, chambers of commerce and associations, was set up as the initiative of the British Embassy and the Hungarian Business Council for Sustainable Development (BCSDH).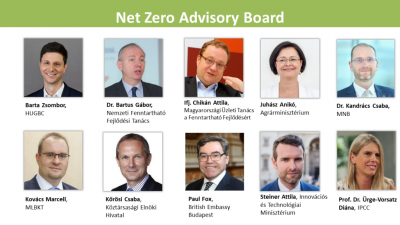 Members of the Net Zero Advisory Board:
Zsombor Barta (HUGBC – Hungary Green Building Council)
Dr. Gábor Bartus (NCSD – National Council for Sustainable Development)
Attila Chikán Jr. (BCSDH – Business Council for Sustainable Development in Hungary)
Paul Fox (British ambassador)
Anikó Juhász (Ministry of Agriculture)
Dr. Csaba Kandrács  (The Central Bank)
Csaba Kőrösi (Directorate for Environmental Sustainability of the Office of the President)
Marcell Kovács (MLBKT – Hungarian Association of Logistics, Purchasing and Inventory Management)
Attila Steiner (Ministry for Innovation and Technology)
Prof. Dr. Diána Ürge-Vorsatz (IPCC –Intergovernmental Panel on Climate Change, HUPCC- Hungarian Panel on Climate Change)
TOWARSD NET ZERO survey
Achieving net zero emissions is a major challenge of our time, and the Towards Net Zero research of the Hungarian Business Council for Sustainable Development (BCSDH), with the professional support of Deloitte. can create a basis for the next steps.
For the first time, research has been conducted on the status quo of the Hungarian business sector in relation to carbon-neutral operations. The picture is not so bright – although 31% of leading companies already have net zero emissions targets, this figure is below the international benchmarks and below the level required for real change.
Sixty percent of the companies that were surveyed have emission reduction policies, and 30% plan to have one in the next five years. Only 10% said they did not even plan such measures. But only 50% of companies have a specific target for reducing greenhouse gas emissions.
Research has shown that there is a high level of uncertainty, a lack of knowledge, and often an inadequate allocation of resources within companies. By presenting opportunities and good examples in this area, BCSDH can support its member companies and the wider business environment.
Research has also shown that in order for companies to set real net zero targets, they need to take big steps in terms of measuring emissions and introducing an internal price for carbon. For those who are just starting the process, reducing waste, investing in energy efficiency, switching to renewable energy, and increasing resource efficiency can be the first steps. But it is important to emphasize that we need to go much further than this to create a real net zero-emission economy in Hungary by 2050.
Race to Zero
The Race to Zero is the UN-led campaign for a zero-carbon world. Close to 1,400 businesses, including the likes of Facebook, Tesco, LafargeHolcim and Magyar Telekom, and 74 of the biggest investors have joined the global Race to Zero campaign, along with over 454 cities, 23 regions, and 569 universities. Businesses of all sizes and across all sectors have a clear role to play in climate action, in line with the Paris Agreement and in the lead-up to the COP26 in Glasgow in November 2021.
Over the coming years, every sector in every market will be transformed as the transition to a low-carbon economy is underway. Committing to the Race to Zero goals of net zero carbon emissions by 2050 is also taking the steps necessary to protect and grow your business by reducing costs, by enhancing access to investor capital, by staying ahead of policies and regulations to limit GHG emissions, by increasing your business' preparedness to external shocks, and by leading on tomorrow's innovation and transformation.
For more information on the Race to Zero campaign prior to the event, please turn to the campaign's global website, which provides information on the paths available for joining the campaign, including the Science Based Targets initiative, and the SME Climate Hub.
Thanks to our sponsors!