"We believe that the key to the long-term success of a company is an executive director and management who are aware of the concept of sustainable development and are able to interpret it in a complex way in decision making. By putting forward the recommendations our aim was to draw up principles that can provide guidelines for corporate leaders in Hungary. In order for this to be successful, they were drafted in cooperation with business executives and sustainable development experts. Thus, we hope that they will be received widely and with open-mindedness. For this reason, we welcome and look forward to the support of other corporations, those corporations who agree with the principles, wish to lead by example as well as manage their companies accordingly." – István Salgó, President, Business Council for Sustainable Development in Hungary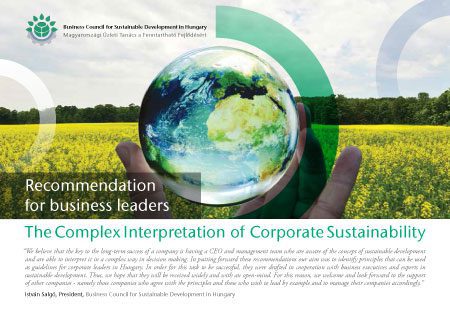 Download here: BCSDH Recommendation for business leaders
Strategic approach                                                                                                                               
The management of a company that interprets sustainability in a complex way should draw up its business strategy by integrating long-term, value-creating economic, environmental and social aspects and should provide the resources necessary for implementing such strategy.
Responsible management
An executive from the top management level of the company should be appointed to be responsible for its sustainability performance. Each member of management, at every level, should be individually responsible for promoting the sustainable operation of the company. The executive incentive scheme should include environmental and social goals as well as economic ones.
Ethical operations
The company should operate in a way that respects the law and is ethical (for example, endeavour to be free from corruption and provide fair employment). The behaviour expected should be recorded in writing, resources should be provided for implementation and enforcement and the policy should extend to all stakeholders.
Respect for human values
The company should consider the protection of human life and safety, equality and the right to a healthy environment to be basic values and should take them into consideration when business decisions are made.
Environmental responsibility
The life cycle approach, as well as both economic profit and environmental impact, should inform decisions made by the company. The company should be committed to environmental sustainability and should extend this responsibility to the entire supply chain (suppliers, partners and customers).
Partnership with stakeholders
The company should cooperate with its stakeholders and maintain open and bilateral communication with them. When stakeholders are impacted by its operations, the company should aim to create mutual satisfaction and long-term cooperation and partnerships. It should set an example by taking advantage of its size and position. When selecting its business partners, it should consider and prioritise sustainability factors. Through professional organisations and extensive cooperation the company should endeavour to integrate into its operations the sustainability principles of regulatory processes and policies.
Transparent operations
The company should collect reliable data and information about its activities, economic, environmental and social impact and performance on an ongoing basis. The information should be made available and the company should inform its partners in a regular and credible way.
The present recommendation has been drafted by the Business Council for Sustainable Development in Hungary in cooperation with business leaders and sustainable development experts.
Signatories
These annual reports describe the outcome of a survey conducted by the Business Council for Sustainable Development in Hungary. They provide information about the opinions, experiences and expectations of respondents about the current situation of and trends in sustainable development in Hungary and give details about their performance and targets.
The survey is always based on the 'Recommendations for Business leaders: The Complex Interpretation of corporate Sustainability'.
Survey was conducted using an electronic question­naire and was analysed and summarized by an independent consultant and the report was then edited based on this summary by the Working Group and staff of BCSDH.
The survey is neither statistically valid nor representative but it highlights the opinions of company leaders who are shaping approaches to local sustainability through their commitment and action.
Survey Report 2017 – Corporations Advance the Cause of Sustainability
In 2017, beyond collecting information about general trends and accomplishments, the survey had a special focus on environmental responsibility.
Survey Report 2016 – Transparency: an obstacle or benefit to companies in Hungary?

In 2016, beyond collecting information about general trends and accomplishments, the survey had a special focus on transparent operation.
From this year a detailed analysis of the survey 2016 is also available:
Survey Report 2015 – Leading by example and commitment are key factors
In 2015, beyond collecting information about general trends and accomplishments, the survey had a special focus on responsible management.
Survey Report 2014 – Enhancing Sustainable Development requires predictable external circumstances
In 2014, beyond collecting information about general trends and accomplishments, the survey has a special focus on the strategic integration of sustainability
Survey Report 2013 –  Sustainability is more than an option – it is core business