SPAR Hungary has been striving for years to minimise its impact on the environment in both its commercial operations and manufacturing processes, to protect employees and customers, to offer products from an increasing number of small and family-owned Hungarian companies and to pay attention to disadvantaged groups in the spirit of social responsibility. The company has published the results achieved in 2022 in a Sustainability Report.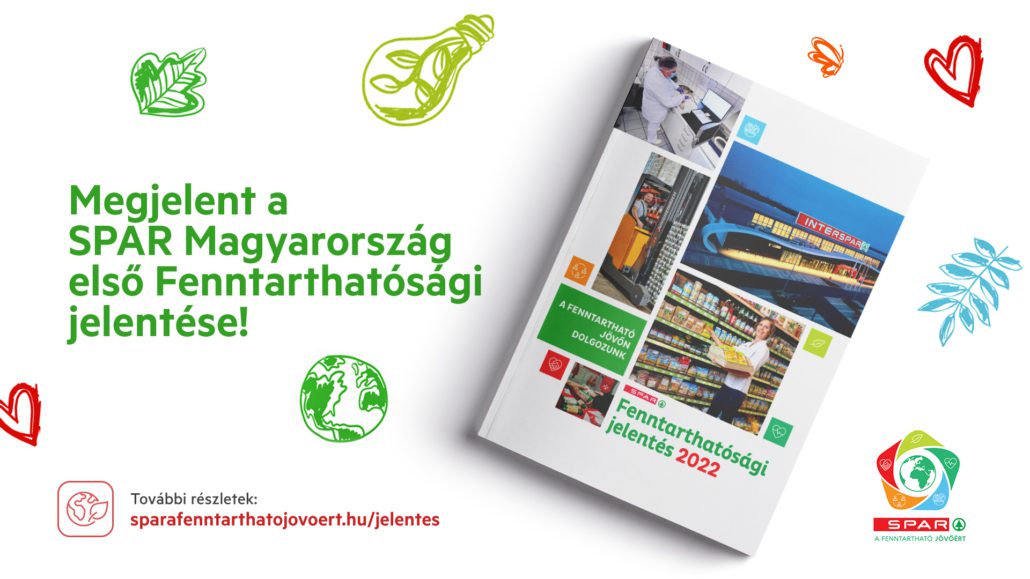 The sustainability activities of SPAR are guided by five main pillars: protection of the environment, food safety, promotion of healthy lifestyles, protection of employees and social responsibility. These key pillars are closely linked to the UN Sustainable Development Goals.
"We have kept focusing on the company's sustainability vision even during a year of economic difficulties, such as 2022. SPAR aims to further deepen its commitment to sustainability in its relations with employees, customers and suppliers, in order to become Hungary's leading retail chain addressing sustainability issues and challenges," explained Gabriella Heiszler, President and CEO of SPAR Hungary, who is also responsible for the company's sustainability activities.
Hungarian products, shorter supply chains
SPAR Hungary is committed to supporting small businesses in getting their products on the store shelves. This is achieved through the Hungaricool competition, organised for the fourth time in 2022, to which applicants can enter high-quality, newly-developed products manufactured in Hungary. The Regions of Treasures programme, launched in 2021, will also improve market access for small Hungarian producers. In order to reduce transport distances SPAR has set up centres in six cities – Nyíregyháza, Pécs, Győr, Székesfehérvár, Zalaegerszeg and Hódmezővásárhely – to provide supply outlets for micro and small enterprises in the region. The SPAR Supplier Academy also provides valuable professional skills and knowledge to step up the activities of the partner companies.
Less plastic and food waste
In the second half of last year, the company phased out single-use plastic bags from all its store fruit and vegetable departments, and from August 2022 it only offers customers biodegradable bags, reducing the amount of plastic entering the commercial cycle by around 450 tonnes per year.
SPAR is also committed to cutting food waste: in partnership with the Hungarian Maltese Charity Service, it distributes food donations that are fit for consumption but no longer available in stores due to their expiry date to those in greatest need. Within the framework of this cooperation, more than 32,000 kg of food was delivered to the charity service from 11 stores between September and December 2022.
From November 2022, 21 test stores started working with the Munch food-saving app (a Hungarian development), offering low prices on close-to-expiry products, thus preventing food waste.
The trial period has demonstrated the success of the campaign: in its first two months, November and December, nearly 10,000 kg of food has been saved.
Some key results from 2022:
– SPAR Hungary's total energy consumption decreased by more than 3 percent compared to 2021. The company has started installing solar panels.
– The organisation's volume of generated waste decreased by more than 2,200 tonnes (6.4 percent) compared to 2021.
– SPAR continues to expand the number of collection points for used cooking oil. The company also provides a map-based online search tool for the collection of sorted waste.
– By phasing out single-use plastic bags, the chain's customers use around 450 tonnes less plastic each year when buying fruit and vegetables. Additionally: from May last year, paper bags are used for bakery products. In addition to the above, such products can be bought in their own packaging, in reusable bags or without packaging.
– The retail chain is reducing its plastic use by 84 tonnes per year with new packaging materials used in the logistics department.
– By 2022, the SPAR Lifestyle programme added more than 1,500 health-conscious and "free from" products to the Hungarian chain's range.
– 90 percent of employees participated in the 2022 employee satisfaction survey. The corporation spent around 8.6 billion HUF on salary increases. Training hours per employee increased by more than 20 percent in 2022.
– SPAR Hungary spent more than HUF 244 million on charitable causes in 2022.
– The "Joy to Give!" (Adni Öröm!) Christmas fundraising campaign – which SPAR organised for the 26th time in 2022 in cooperation with the Hungarian Maltese Charity Service – made the holidays of 19,500 families more joyful. Through the cooperation with the charity, the customers helped 1,500 needy students start school with 58,000 school supply items and nearly HUF 2 million worth of donation cards.
– In the he "Paw in trouble!" (Mancs a bajban!) pet food collection campaign, volunteers collected more than 10,000 kilograms of dry dog food, nearly 2,000 kilograms of dry cat food, and 11,000 cans and pouches in stores last year.
In 2019, SPAR Hungary has organised its sustainability activities under the umbrella brand "SPAR – for a sustainable future", and has made the objectives and results available to everyone on the www.sparafenntarthatojovoert.hu website.
Please find the full Sustainability Report at www.sparafenntarthatojovoert.hu/jelentes.
https://bcsdh.hu/wp-content/uploads/2022/01/spar.png
170
450
Balasfalvi-Lukacsi Mariann
https://bcsdh.hu/wp-content/uploads/2021/12/bcsdh-logo.png
Balasfalvi-Lukacsi Mariann
2023-09-13 12:17:11
2023-09-13 12:17:11
SPAR Hungary publishes first Sustainability Report