In order to support environmentally-conscious conduct, SPAR launches the specialised collection of waste household cooking oil and fat. In collaboration with a waste management partner, waste household vegetable oil and fat will be collected into dedicated containers in one hypermarket and four hypermarket stores, for three months following 21 June 2021 in a pilot project.
The "SPAR for a Sustainable Future" programme provides the general framework of actions taken by the company to improve day-to-day living conditions. In addition to health and other vital areas, protection of the environment is one of the key promoted principles. Households generate a high volume of waste cooking oil, fats and grease residue. Much of these are still disposed in the sewerage, contaminating water sources, although properly disposed cooking oil can be reused without loss.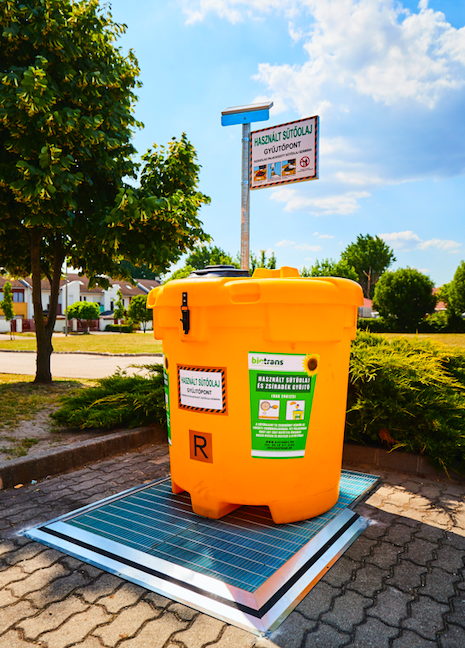 "Our retail chain highlights the importance of protecting the environment, and implements several special environmental solutions involving customers. Following proper professional preparations and planning, we are introducing this pilot project in selected stores to collect waste household cooking oil and fat. In these efforts SPAR Hungary collaborates with Biotrans Kft. as its professional partner. If this service lives up to its promises, we will also establish the collection of waste cooking oil in all our stores with a perceptible demand and the appropriate facilities for such a collection point," explained Márk Maczelka, head of communications at SPAR Hungary.
The pilot project for the collection of waste household cooking oil and fat covers the INTERSPAR hypermarket in Tatabánya (Győri út 25.) as well as supermarkets in Székesfehérvár (Pozsonyi út 10.), Dorog (Bányász körönd 1737/16. hrsz.) and Budapest (District IV, Nap utca 16. and District XVII, Maroshévíz utca 1.).
The business partner specialised in the collection and processing of food waste provides special 800-litre containers that are highly resistant to environmental impact and heavy use. The waste cooking oil and fat collection bins provided by Biotrans Kft. take the waste oil in glass, refilled to their own packaging, or in PET bottles. Employees can monitor whether the collection bins located outside of the stores are getting full online.
Biotrans Kft. transports the waste from the designated stores and then its staff will unpack and sort the packaging material with special machinery. Then the glass bottles are utilised as a raw material for glass manufacturing, while the PET bottles are ground and utilised for energy production purposes. The waste oil is settled, heated and forwarded to a biodiesel plant where it is made into fuel.
Images attached to the press release are available in SPAR Médiatár, at the address http://mediatar.spar.hu/. The interface also enables downloading additional public images from SPAR. When using the images, please credit the photos to "spar.hu".
For more information please contact:
Márk Maczelka, head of communications
SPAR Magyarország Kereskedelmi Kft. ∙ 2060, Bicske, SPAR út
Mobile: +36 20 823 7891 ∙ E-mail: maczelka.mark@spar.hu
https://bcsdh.hu/wp-content/uploads/2022/01/spar.png
170
450
Takacs Ivett
https://bcsdh.hu/wp-content/uploads/2021/12/bcsdh-logo.png
Takacs Ivett
2021-06-21 07:47:58
2022-10-21 16:13:08
SPAR reduces environmental impact by waste cooking oil collection