With the help of an unusual form of multi-actor collaboration, the Business Council for Sustainable Development Hungary (BCSDH), which acts to gather responsible business executives together, will neutralize the CO2 emissions of its jubilee business lunch by planting thirty-one heritage Hungarian apple trees.
The BCSDH, whose 80 affiliates produce 30% of national GDP and employ 400,000 people, recently introduced its responsible employment protocol to 160 corporate leaders at a business lunch.
The organization is committed to supporting climate protection and sustainable development, and sought to present a good example to both companies and the public sector with its carbon-neutral event.
Based on the Hungarian Food Bank Association's suggestion of reducing the use or creation of food waste, as well as the contribution of the Budapest Bike Maffia, Budapest Party Szerviz workers and participants, BCSDH created an event with a smaller carbon emission. The carbon footprint was calculated by the GreenDependent Institute at 3.5 tons of CO2, and the process also took the travel emissions of attendees into account.
source: GreenDependent Institute
To neutralize the event's CO2  emissions, with the help of the Iskolakertekért Foundation thirty-one saplings were planted, chosen from the Tündérkert Foundation's selection of heritage Hungarian trees. Not only did this help to neutralize emissions, but also to maintain the gene pool of heritage Hungarian apple trees, to increase diversity, and support the existence of an experience-based, sustainability-supporting educational system with the school gardens.
This event, which was held before the start of the normal year-end festivities, will hopefully inspire many companies and other organizations who are now planning their Christmas events.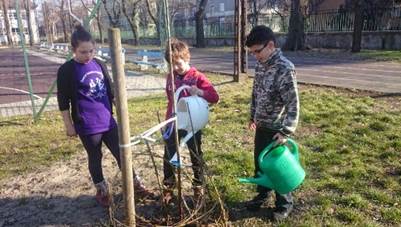 source: Iskolakertekért Foundation – Tomorikert
0
0
eszter.chikankovacs
https://bcsdh.hu/wp-content/uploads/2021/12/bcsdh-logo.png
eszter.chikankovacs
2017-12-06 11:13:49
2017-12-06 11:13:49
Thirty-one apple trees for a business lunch?