Budapest, February 22, 2022 – The Electing General Assembly of the Business Council for Sustainable Development in Hungary (BCSDH) has elected a Board for another three-year term. During the six-year presidency of Attila Chikán Jr., 50 new companies joined the organization, which now brings together 115 companies producing 30% of Hungary's GDP and has become a benchmark in the field of sustainability. The re-elected President will be supported by a four-member board, whose re-elected members are Zsolt Jamniczky, Vice-president of E.ON Hungária, Dr. Ágnes Fábián, Managing Director of Henkel Hungary, Zoltán Gazsi, Managing Director of Eisberg Hungary, and Gréta Nagy, Managing Director of Dandelion Ltd. The management of BCSDH will remain in the hands of Irén Márta.
The re-elected Members of the Supervisory Board are Orsolya Pallaghy, Dr. Orsolya Fazekas, and János Kocsányi, CEO of Graphisoft Park SE. The mandate of the President, the Executive Board and the Supervisory Board is for three years.
'I believe that the organization is on the right path and our business is becoming more effective each and every year' – started the evaluation of the last three years by Attila Chikán Jr., President of BCSDH – 'The awareness and recognition of the organization both to governmental stakeholders and to a wider audience has grown significantly in recent years due to our professional activities and their successful communication'.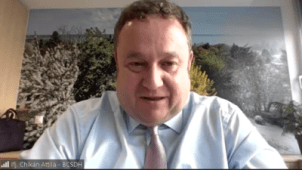 Nothing proves the success of BCSDH's efforts to introduce more and more companies to the essence and content of sustainable development than the fact that the association now has 115 members. In recent years, the 340 professional events, 220 active corporate leaders, 250 talented young people in the 'Future Leaders' program, more than 280 civil, scientific and corporate experts involved in the Action 2020 Hungary Program, and 140 business practices presented so far that provide real answers to sustainability challenges demonstrate the BCSDH's commitment to sustainability.
Last year, the Circular Economy Platform, which was set up at the initiative of the BCSDH, the Dutch Embassy and the Ministry of Innovation and Technology, already had 94 members. The initiative aims to foster the circular transition through collaboration and knowledge sharing.
Further, for the sixth time this year, the For a Sustainable Future Award, launched in 2017, recognizes outstanding corporate, managerial and personal achievements in the field of sustainability, complemented by the Social Responsibility category launched in response to the pandemic.
One of the greatest achievements of recent years has been the establishment of the Net Zero Advisory Board, established in January 2021, which brings together key players committed to cross-sectoral regulatory, scientific and business sustainability. The primary goal of this cooperation is to facilitate and accelerate the process by which the Hungarian economy can become carbon neutral by 2050.
'As for the future, we want to continue and develop all these activities with the usual determination in the coming years. We have a number of tasks ahead of us and we need to continue developing the action and programs that are planned by 2030' – Attila Chikán Jr. highlighted as the most important tasks. – 'It's time to turn words and commitments into action. We must strive to further strengthen the leadership of the BCSDH as the voice of a responsible and active business community. We will continue to support our member companies in achieving their scientifically based, ambitious sustainability goals. Working with them, our shared goal is to deliver measurable results by the end of 2030 through our recently launched Time to Transform 2030 program' – added the re-elected president about his professional program.
***
The new leadership of the Business Council for Sustainable Development in Hungary
Attila Chikán Jr. – President
CEO
ALTEO Plc.
Mr. Chikán has a degree in economics and more than a decade of professional and leadership experience in the field of energy. The ALTEO Group, led by Mr. Chikán since its establishment, has become one of the sector's most important actors. The company's core businesses are smart energy management services for industrial firms and renewable energy production. ALTEO has issued stocks on the Budapest Stock Exchange since 2010 and was recently listed in the Prime Equities category. The company is one of the leading domestic representatives of an impact investment strategy aimed at making profitable, sustainable and socially responsible investment.
Chikán Attila Jr. is committed to the principles of sustainability: he runs his own blog under the name Chikansplanet. He is also actively participating in BCSDH's professional work and has served as the president of BCSDH since 2016.
Dr. Ágnes Fábián
CEO
Henkel Magyarország Kft.
Adhesives Technologies business unit executive
A member of Henkel Magyarország Kft's team since 1996, Dr. Ágnes Fábián became a business unit executive at Henkel Adhesive Technologies by moving up through the company hierarchy and spending nine years in an international environment, besides which she has also been CEO of Henkel Magyarország since 2011. Dr. Fábián began her career in 1990 in Biogal Gyógyszergyár Hélia's cosmetics sales division. Later, she worked as regional sales manager at Maybeline's and Loctite Magyarország when Henkel acquired the company. Her aim is to make even more leaders realize that sustainability and value creation for customers are inevitably components of good performance. Operating sustainably is now a requirement that cannot and should not evaded.
Zoltán Gazsi
Managing Director
Eisberg Hungary Kft. 
Managing Director of Eisberg since 2007. After graduating from the University of Agricultural Sciences in Gödöllő, Zoltán worked for the National Institute for Agricultural Quality Control, followed by 14 years of working in a multinational environment at Syngenta. After leading the Experimental Station at Ócsa, he had various marketing- and project-coordinator jobs in increasingly large fields of operation, including on almost all continents. He believes that the good examples seen at companies have an impact on the families of employees and on the direct and indirect environment of the company, and that these impacts are inevitably the start of significant changes at the level of society.
Zsolt Jamniczky
Vice-President,
E.ON Hungária Zrt.
E.ON Hungária Group's Director for Central Affairs since 2007 and Deputy CEO of the company since 2010. After completing his studies, Mr. Jamniczky served as an adviser in the Foreign Relations Office of the Hungarian National Assembly. In 1996 he was appointed Director for Corporate Affairs at Reemtsma Hungary, a Debrecen-based tobacco company. This was followed by the Director for Corporate Affairs position at Philip Morris Hungary until 2005, while between 2006 and 2007 Mr. Jamniczky was Philip Morris International's Director of EU Government Relations at the company's Brussels office. He studied at the Budapest University of Economics and the Eötvös Loránd University of Sciences. Mr. Jamniczky's main fields of interest include corporate sustainability and corporate social responsibility in a constantly changing economic and social environment, and innovation in the energy sector.
Zsolt Jamniczky was awarded the Knight's Cross of the Order of Merit by the President of Hungary in 2016.
Gréta Nagy
Managing Director
DANDELION Kft.

Founder and Managing Director of Dandelion Kft. since 2006.
Gréta graduated as an environmental engineer from the Széchenyi István University, and also from an Environmental Management Engineering and Economic Analyst MBA at the Budapest University of Technology and Economics.
She has participated in environmental and process-optimization projects over the last twelve years, and her colleagues have developed innovations such as the methodology for calculating a company's ecological footprint, as well as the Greenlex software, which is a self-assessment software for regulatory compliance. The company's latest development is WorksStressMeter, which may be used to measure the stress level of employees and organizations. Gréta has been participating in BCSDH's work as a consultant.
https://bcsdh.hu/wp-content/uploads/2022/02/esemeny-resztvevok-2.png
724
1024
eszter.chikankovacs
https://bcsdh.hu/wp-content/uploads/2021/12/bcsdh-logo.png
eszter.chikankovacs
2022-02-22 22:49:28
2022-04-27 14:49:06
Attila Chikán Jr. re-elected as BCSDH president