Lisbon, 15 October 2019 – During the annual Council Meeting of the World Business Council for Sustainable Development (WBCSD), 24 CEO-led business organizations, and Global Network partners of WBCSD, representing about 2,000 companies, have launched the Lisbon Declaration, a joint initiative to support business action and commitment at scale towards addressing the challenges biodiversity faces today.
A strong business voice is critical to drive the change needed at a global level, these business organizations commit to work with their member companies to set out concrete and time-bound actions that will produce a real impact in the preservation of biodiversity at a local level. The initiative act4nature will serve as important inspiration for each local commitment: it was launched by EpE (also a signatory of the Lisbon Declaration) in France in July 2018, and signed by 65 companies.
Most signatories will also join the Business for Nature global coalition that will unify and simplify the leading business voices towards the Convention on Biological Diversity (CBD) COP 15 next year, through a dedicated feedback regarding local companies' recommendations to constructively contribute to the political debate and bring the forward-thinking businesses' perspective on the policy changes needed to address the nature crisis. The signatories will also build on the growing expectation that CBD COP 15 will achieve a global agreement on nature, just as UNFCCC COP 21 did for climate with the Paris Agreement. This global coalition hosted by WBCSD, brings together influential organizations such as the World Economic Forum, WWF, We Mean Business, Natural Capital Coalition, International Union for Conservation of Nature (IUCN), International Chamber of Commerce (ICC), World Resources Institute and others.
Iren Marta, Managing Director of BCSD Hungary said: "Preserve biodiversity is key for the survival of the Humanity. By signing the Lisbon Declaration we express our commitment to take actions."
"The Lisbon Declaration is a pledge by many of WBCSD's Global Network partners from around the world to seize the opportunity of making 2020 a turning point for biodiversity and enhance the critical role that natural capital must play to achieve truly sustainable societies and economies", said João Wengorovius Meneses, Secretary General of the BCSD Portugal.
"The business sector in Brazil is taking the lead to foster that biodiversity conservation and its sustainable use are intrinsically linked to the economic development of our megadiverse country. The Lisbon Declaration is calling us to this path by gathering what is needed to refrain the loss of biodiversity on a global scale. Brazil has already followed through, led by CEBDS, and will launch its own commitment on 29 October 2019 setting nine targets to be met by 2030 based on the pillars of prevention, mitigation, compensation and knowledge generation and sharing", said Marina Grossi, President of CEBDS – Brazilian Business Council for Sustainable Development.
"Act4nature was launched in France to raise nature in the CEOs agenda. It is fantastic that the Global Network members mobilize their many members for the preservation of nature. The movement is launched, let's amplify and spread it widely. The Lisbon Declaration is a key move in this direction!", said Claire Tutenuit, General Delegate of Entreprises pour l'Environnement (EpE).
"Collaboration and action at a global level must be accelerated if we are to reverse the loss of nature. The Lisbon Declaration represents an important pledge from WBCSD's Global Network partners to work together with the business community on solutions which preserve nature and biodiversity" said Diane Holdorf, Managing Director, Food & Nature and Senior Management team of WBCSD.
"The Lisbon Declaration will catalyze bold business action on nature and biodiversity around the world. This global collaboration is essential to amplify a united and impactful business voice in 2020 and beyond." said Eva Zabey, incoming Executive Director at Business for Nature.
"Day in and day out, WBCSD's Global Network of partner organizations advance solutions, advocacy, and awareness-raising efforts across the world. The Lisbon Declaration is the latest example of local leadership that will translate global needs and ambitions into business action targeting sustainability challenges, including biodiversity and nature", said Filippo Veglio, Managing Director, People and Outreach at WBCSD.
The signatories from 24 countries – Argentina, Australia, Belgium, Brazil, Chile, Colombia, Costa Rica, Finland, France, Greece, Guatemala, Honduras, Hungary, Ireland, Mexico, Netherlands, Panama, Peru, Poland, Portugal, Spain, Switzerland, Ukraine and USA – represent a total of about 2,000 companies, with an estimated total of six million employees.
The launch of the Lisbon Declaration took place in Lisbon, during WBCSD's Council Meeting, an annual event for members and partners that convenes over 400 business and sustainability leaders, as well as business councils from all over the world that represent WBCSD's Global Network.
For more information on Business for Nature, please see here.
Link to the full letter text and signatories.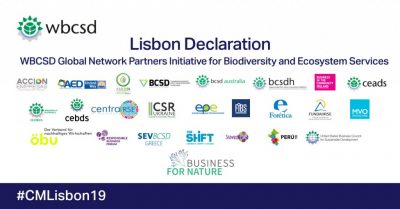 https://bcsdh.hu/wp-content/uploads/2019/10/Lisbon-declaration_1.jpg
536
1024
eszter.chikankovacs
https://bcsdh.hu/wp-content/uploads/2021/12/bcsdh-logo.png
eszter.chikankovacs
2019-10-15 20:40:14
2022-10-21 16:49:46
Business networks in 24 countries pledge immediate action to halt the deterioration of Nature and the loss of biodiversity – BCSDH is among the signatories