"We must invest at least as much time and as many resources in people as we do in developing technologies" – said futurist Gerd Leonhard, concluding his presentation at the BCSDH business lunch which focused on sustainable employment and hosted the award ceremony of the 'For a Sustainable Future' Prize that recognized outstanding management achievement.
The jubilee business lunch of the Business Council for Sustainable Development in Hungary (BCSDH) – celebrating its 10th anniversary – hosted the award ceremony of the newly founded For a Sustainable Future Prize, and a presentation of recommendations that pave the way for the business sector to move towards a more sustainable labour market.
This is the first year that the For a Sustainable Future Prize was presented , which has three categories: Change Leader, Leading Women, and Business Solutions.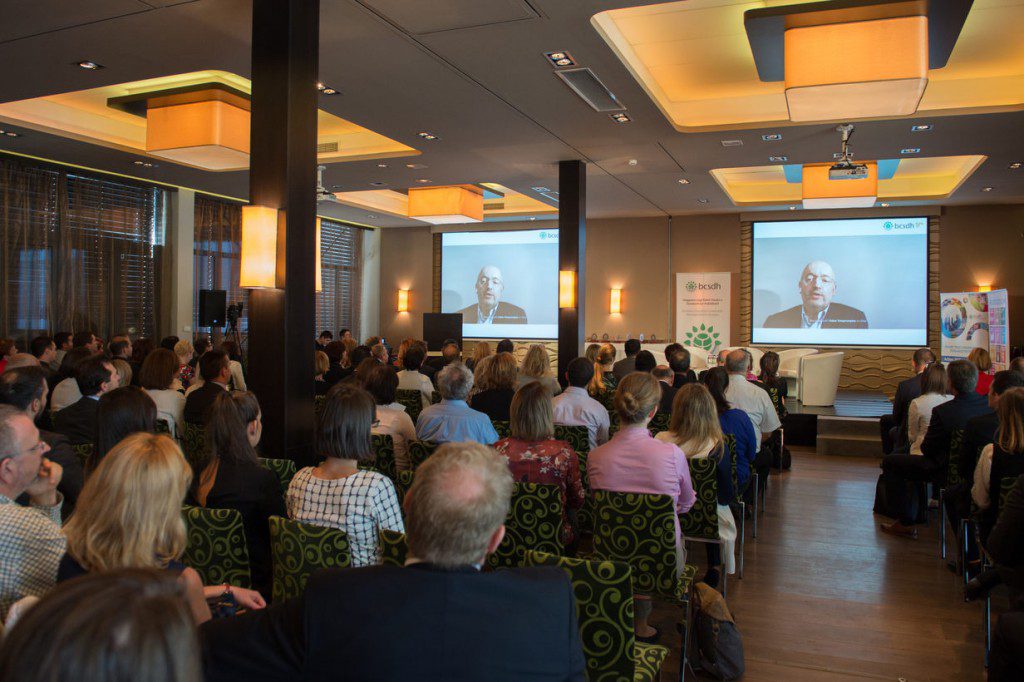 There's no technology without humanity – speech by futurist Gerd Leonhard
 "Efficiency should never become more important than humanity, because not everything that can be automated should be – and happiness cannot be automated"– said futurist Gerd Leonhard, one of the top influencers in Europe (Wired magazine, 2015) and Future Agency CEO emphasizing the role of the mankind in a digitalized society in his live video speech.
"The future is already here – but most of us haven't noticed. We are facing exponential technological change and it's only just the beginning. Humanity will change more in the next 20 years than in the previous 300 years. 50% of our jobs will be automated within the next 10 to 15 years. This could be heaven – or it could be hell; all depends on how we collaborate going forward."
 "Therefore, we should invest at least as much energy in people, in ourselves, as we do in technology. It will make us successful both in terms of personal and economic factors" – he added.
Gerd pointed out how digitalization, one of the key factors, influences the labour market, and also added that human skills such as emotions, emotional intelligence, intuition, imagination and creativity are essential for a deep understanding of technology.
Presentation of Gerd can be downloaded from
here.
---
The recommendations of BCSDH for a sustainable labour market
The labour market has been changing at an accelerating pace, and there is no company in Hungary which is not affected by these changes. Ever-greater labour shortages can threaten market positions, and may become serious impediments to development. – said Attila Chikán Jr., Chairman of the organization, in a speech that introduced the recommendation of three points developed in cooperation with the leaders of BCSDH member companies that are designed to help the business sector achieve employment targets.
The recommendations of BCSDH for a sustainable labour market:
Create employment systems which fit the life status of individuals
Promote lifelong development
Support the career paths of women
Over 70 senior executives, civil and scientific experts took part in the preparation and wording of the recommendation. As a result, solutions for both the business sector and its stakeholders were identified that might can positively impact the employment situation. 
Key sponsors of this year's programme: Alteo, Mavir, McDonald's, MOL, Nestlé, UnileverFurther sponsors include: Folprint, Hungarocontrol, HVG, KPMG, Rossmann, SCA, Syngenta.
 You can find more information about The Recommendations in BCSDH's Annual issue.
---
For a Sustainable Future Prize 2017 – Leaders for sustainability
 As part of the jubilee business lunch of BCSDH, the award ceremony of the For a Sustainable Future Prize, established on the occasion of the 10th anniversary of BCSDH, was held.
 Irén Márta, BCSDH Managing Director and member of the jury explained: "We have established this complex prize with the purpose of recognizing and disseminating to a wide audience the activities of leaders and companies in the field of sustainability. The goal of the prize is to promote and increase the contribution of business to meeting Sustainable Development Goals."
The jury (made up of Gábor Dr. Bartus, Szilvia Krizsó, Irén Márta and István Salgó) selected the laureates from 26 applicants.
The winners of the Change Leader prize were: László Károlyi (Legrand) and Károly Kovács (BDL). Winners of the Leading Woman Prize were: Kamilla Csomai (MAVIR), Andrea Istenesné Solti (Shell), Márta Pálfalvi (Heineken), and Mónika Vörös (Unilever).
The best Business Solution prize was awarded to TESCO Globál Áruházak Zrt. for its "Not a single bite of food can be wasted" program that is designed to reduce the amount of food waste.
Key sponsors of the prize were:
Alteo, Coca-Cola, Greenpro, Inest, SCA.
Further sponsors were:
E.On, K&H
.
The winners of the For a Sustainable Future prize:
Leading Women Prize:
As a charismatic, consistent and empathic leader, Kamilla has played an active role in integrating energy from renewable sources into electricity systems while ensuring her staff's commitment to creating an organization ready for transformation and renewal and adapting to the challenges of sustainable development. She has thereby contributed personally to the accomplishment of Sustainable Development Goals.
Kamilla Csomai  CEO, MAVIR
As an energetic, value-driven and committed leader, Andrea is doing a lot to incorporate diversity into the corporate environment. As a result of her active professional and public efforts, an increasing number of companies are committed to promoting the values of diversity, contributing to the establishment of equal opportunities, and meeting Sustainable Development Goals.
Andrea Istenesné Solti HR Manager for Downstream Central Eastern Europe, Member of the Board, Shell Hungary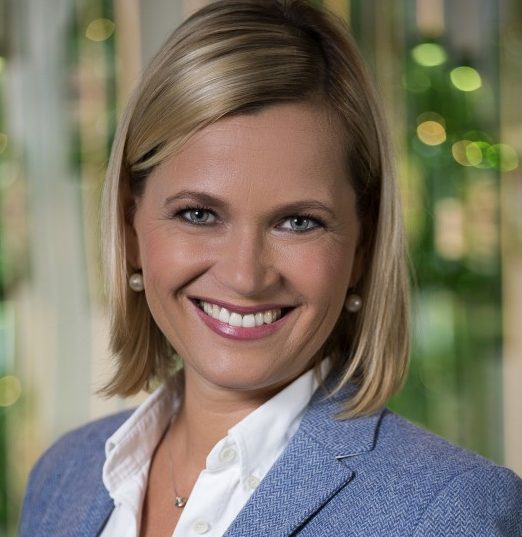 As a conscious, goal-oriented manager who strives for maximum performance, Márta has inspired not only her colleagues but also business leaders. She has also contributed to the achievement of Sustainable Development Goals by setting an example through her commitment to sustainability and equal treatment for men and women.
Márta Pálfalvi Human Resources and Corporate Affairs Director, Heineken Hungary
As a diverse, cooperative and inspirational leader with outstanding professional skills and role model qualities, Mónika has made great strides in fostering women's career paths by encouraging flexible working hours and telework, thus contributing to meeting Sustainable Development Goals.
Mónika Vörös HR leader Hungary-Adria and Food Solutions South-Eastern Europe, Unilever Hungary
Change Leader Prize:
As a credible, recognized and innovative leader, besides being committed to his profession and sustainability, Károly places great emphasis on knowledge sharing. His strategic decisions are not only driven by business values, but economic, social and environmental considerations. His leadership activity and his professional public messages are credible and coherent.
Károly Kovács Managing Director, BDL Plc.
As a widely recognized, creative, systematic and humane leader, László has formulated a new business model. He was among the first to join several initiatives for promoting sustainable corporate operations, and is committed to the training of prospective business leaders in the fields of both management and ethics.
László Károlyi CEO, Legrand Hungary
Business Solution prize:
    'No single bite of food can be wasted' program
The "No single bite of food can be wasted" programme by Tesco Global Hungary is an innovative awareness-raising initiative that goes well beyond regular business solutions, and which can easily be extended to other market players to help the business sector significantly contribute to accomplishing the Action 2020 Hungary objectives and Sustainable Development Goals.
Congratulation!
You can find the Gallery of the event here.
0
0
eszter.chikankovacs
https://bcsdh.hu/wp-content/uploads/2021/12/bcsdh-logo.png
eszter.chikankovacs
2017-11-06 12:30:20
2017-11-06 12:30:20
People: the key to the future – The first For a Sustainable Future Prizes are presented