Removing and recycling plastic waste from nature is an essential task for humanity for a cleaner, more livable environment.
More than 8 tons of waste was collected from the floodplain of the Tisza at this year's 8th PET Cup, this time on the almost 80-kilometer section of the river between Záhony and Tokaj. The collected waste materials can be utilized in the production of several products by sorting them by type, thus promoting the keeping of plastic waste in circulation.
"The commitment of Henkel regarding the field of sustainablilty is one of our basic corporate values, that is why we have been delighted to join the exemplary initiatives of the PET Cup for years. Unfortunately, this year, in order to protect the health of our employees due to the pandemic situation, we decided not to personally participate in the competition, yet we consider it very important, as in previous years, to take part in the current waste disposal event as a sponsor. We hope that next year, similarly to last year, we will be able to take part in the nature conservation water adventure with a large team of employees"– says Dr. Ágnes Fábián President of Henkel Magyarország Kft.
"Henkel Hungary has contributed HUF 1.5 million this year to the implementation of the Felső-Tisza PET Cup in August and the Bodrogi PET Cup in September. Their support means a lot in the competitions, because it contributes to the costs of collecting, sorting, processing and logistics of the generated waste" adds Dóra Szilvia, the communication manager of the PET Cup.
An important element of Henkel's long-term sustainability strategy is to strike a balance between economic success, environmental protection and social responsibility. The company is constantly witnessing this through its many activities. Among the ambitious goals towards a circular economy, there will be special emphasis on packaging. By 2025, Henkel's product packaging will be 100% recyclable, reusable, or compostable*.
"Our goal is to reduce the amount of virgin plastics from fossil sources in the packaging of our consumer products by 50%. We would like to achieve this by increasing the proportion of recycled plastic to more than 30%, reducing the amount of plastic and increase the use of bio-based plastic. In addition, we want to help prevent waste from entering the environment. In order to achieve this, we support waste collection and recycling initiatives, " – concludes Dr. Ágnes Fábián.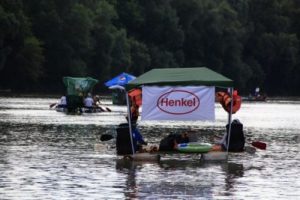 Learn more about Henkel's sustainability activities at https://www.henkel.com/fenntarthatosag
More information about the PET Cup initiative: https://petkupa.hu/hu_HU/
*Excluding adhesive products where residue may affect recyclability or pollute recycling systems.
https://bcsdh.hu/wp-content/uploads/2022/01/Henkel.png
170
450
Takacs Ivett
https://bcsdh.hu/wp-content/uploads/2021/12/bcsdh-logo.png
Takacs Ivett
2020-09-21 14:08:15
2022-04-30 15:58:17
Commitment to plastic waste reduction