The decrease in biodiversity poses a more significant and immediate threat than climate change; immediate action is even more crucial. All companies are dependent on and affected by nature. Business leaders have a considerable responsibility and opportunity to achieve positive changes in this area. This was the focus of the BCSDH's (Business Council for Sustainable Development in Hungary) business lunch on October 12, 2023, which emphasised biodiversity restoration and nature-positive climate solutions.
Budapest, October 12, 2023 – Life is intertwined with nature, and so is business, as nearly half of global GDP is directly dependent on nature and its services. How has biodiversity become one of the fastest-growing ESG topics? What role does nature play in achieving net-zero goals? What should companies do in this regard?
The Business Council for Sustainable Development in Hungary (BCSDH) presented a three-point recommendation at its business lunch to help the business world take steps in the field of biodiversity.
For a sustainable future, systemic changes are necessary. In addition to utilising the low-tech solutions provided by nature, it's crucial to leverage the opportunities offered by artificial intelligence. This topic was discussed by Greta Nagy, a member of the BCSDH Board, in a conversation with Dr. George Tilesch, an expert and consultant in artificial intelligence (AI) who works with various sectors and industries, primarily in the transatlantic region.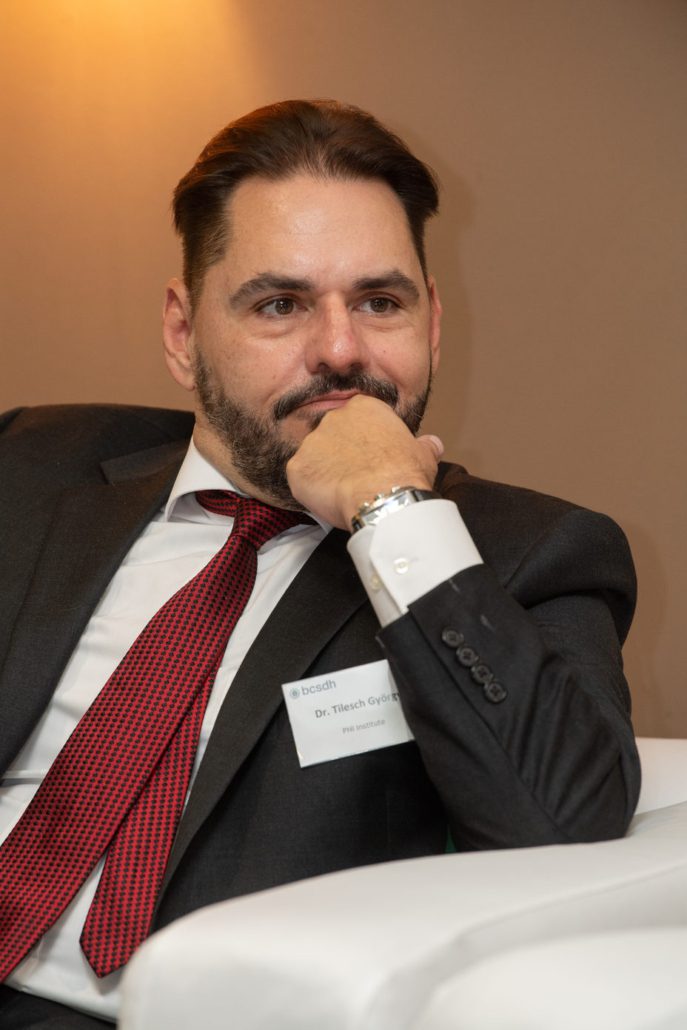 "The most powerful tool that humanity has been given, thanks to artificial intelligence, is also the best instrument to solve civilisational problems. However, this only works if we can make it human-centric. The one who can steer it towards socially beneficial results and manage risks correctly will achieve the greatest long-term success. We need to create alternative technological visions and paradigms," explained Dr. George Tilesch.
However, technological solutions alone will not provide the answer; we need ecosystem services provided by nature. Nature accounts for one-third of climate solutions.
In his opening remarks, Attila Chikán Jr., president of BCSDH, emphasised, "The decline in biodiversity can pose an even greater problem than the climate crisis, as we are on the brink of [biodiversity] collapse. The World Economic Forum (WEF) annual report already lists the disappearance of biological diversity as among the most serious risks. Biodiversity provides important adaptation functions in the context of climate change, as the more diverse and varied a system is – including the business [ecosystem] – the more resilient it is to external impacts. It has a much better chance of survival or adaptation."
The time for action is undoubtedly now. Within our Time to Transform 2030 framework this year, which addresses the topic of biodiversity, we have formulated the following three recommendations that can assist the business sphere in taking the necessary steps:
Conduct organisational impact assessments and set goals for preserving and restoring natural and biological diversity.

Identify relevant areas and implement strategic initiatives incorporating natural diversity into decision-making processes.

Adopt and apply a holistic approach and mindset throughout the value chain, fostering partnerships and collaboration.
"How to embark on this journey?" was the focus of the executive roundtable discussion featuring Gábor Décsi, CEO of Dome Facility Services Kft., János Mészáros, Deputy CEO for Strategy and Economics at BKM Budapesti Közművek Nonprofit Zrt., and Anita Simon, Deputy CEO of the ALTEO Group. The discussion was moderated by Irén Márta, Director of BCSDH.
This year's highlighted sponsors of the Race to Zero program were Deloitte and E.ON, with additional support from Alteo, ALD|Leaseplan, and Unilever. ALD|LeasePlan was a sponsor of BCSDH's carbon-conscious events.
***
Dr. George Tilesch
An expert in artificial intelligence (A.I.) and senior executive and consultant, working primarily in the transatlantic space across sectors and industries, specialising in AI Strategy, Ethics, Impact, Policy, and Governance.
He is Founder and President of the PHI Institute for Augmented Intelligence with the mission of putting machine intelligence in the service of enhancing the human condition for all. As a global senior executive and strategy consultant, Dr. Tilesch has worked for 25 years with a wide array of actors: government leaders on all continents (the EU, the White House,  the U.S. Navy, NASA, Dubai, New Zealand), for corporations (Microsoft, Ipsos, and other companies from the Fortune 50 Tech list), and international organisations and global think tanks (World Economic Forum, Club de Madrid), in addition to startups, scaleups and global social innovation leaders. He is the co-author of the 2022 World Economic Forum AI C-Suite Toolkit, read and implemented worldwide by big enterprise CEOs. Dr. Tilesch is also the co-author of the book Between Brains: Taking Back our AI Future, published in 2020. Dr. Tilesch has American and Hungarian citizenship and is based in Silicon Valley.
https://bcsdh.hu/wp-content/uploads/2023/10/DSC_5618.jpg
928
1392
eszter.chikankovacs
https://bcsdh.hu/wp-content/uploads/2021/12/bcsdh-logo.png
eszter.chikankovacs
2023-10-13 12:46:27
2023-11-27 20:11:30
Dramatic biodiversity loss has become a business risk – it poses a greater near-term problem than climate change.