By the end of 2022, the SPAR network has almost doubled the number of used household oil collection stations around the country. It brings the total number of these stations found at hyper- and supermarkets to 80, allowing the easy disposal of used household oils that otherwise would pollute the environment. But, with the use of modern technology they are recyclable.
"SPAR started the program to recycle used household oils and grease in 2021, and we have been adding more collection stations ever since. During the first year we set up special containers with an 800-litre capacity in nine hyper- and 25 supermarkets. Then by mid-summer last year we added another 11 of these, and by the end of the year a further 35 collection points were set up in two phases. Our partner, Biotrans Kft. specialises in the collection and processing of food waste and they transfer the used household oils and grease from these collection points, for sedimentation and heating after which they are turned into biodiesel fuel. Our environmentally-friendly initiative was welcome by customers. In 2021 they returned more than 13 tonnes of used household oils to our collection points, and this number grew to 73 tonnes in 2022," emphasised Márk Maczelka, head of communications at SPAR Hungary.
It isn't only mineral oils that harm aquatic life and waters; vegetable oils and animal fats which make up household oils can be just as dangerous. So, to protect the environment, it is important that we collect and recycle used household oils and fats, because as little as a drop can harm our waters. That is why it is crucial that we avoid pouring these waste products down the sink, sending them into water channels and runoffs, or dispose of them in the bin. In Hungary close to 25 000 tonnes of household oils are generated in one year, and only a small fraction of this is disposed at collection points. By collecting and returning this hazardous waste, we also enable it to be recycled into biodiesel fuel. Conscious waste management does not only support the environmental protection work of public utility services, but can also help protect the sewage networks and as a result our natural waters.
Customers can bring back their used oils and grease in glass and PET bottles, or in the original packaging. Interactive maps help them find their nearest stores with the special containers. The current list of collection points is available via SPAR's sustainability website:  https://www.sparafenntarthatojovoert.hu/szelektiv-hulladek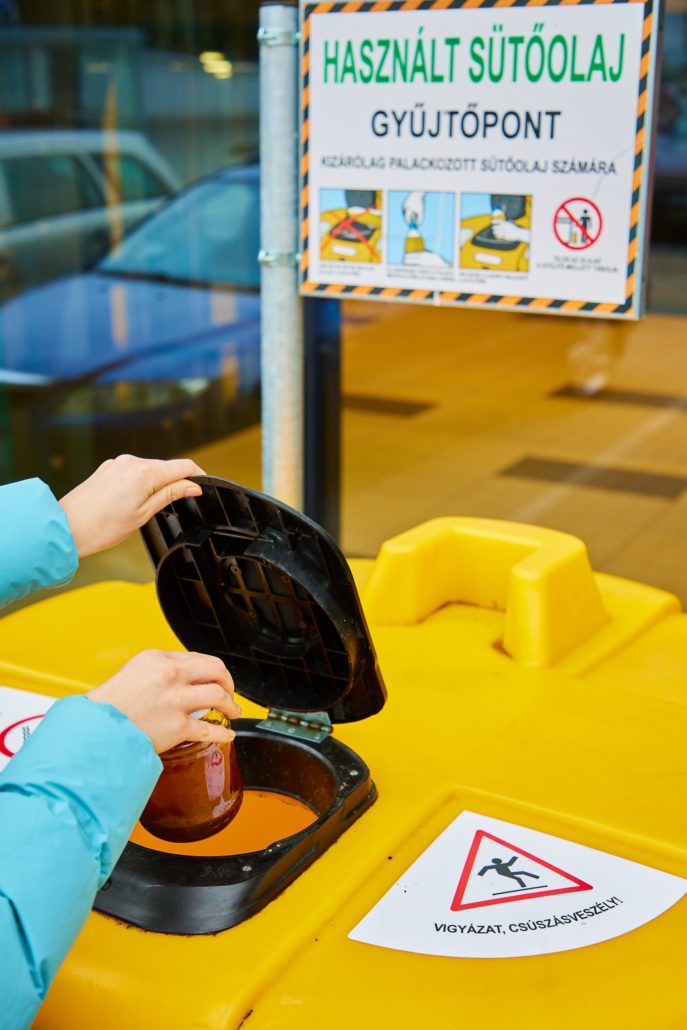 https://bcsdh.hu/wp-content/uploads/2022/01/spar.png
170
450
Balasfalvi-Lukacsi Mariann
https://bcsdh.hu/wp-content/uploads/2021/12/bcsdh-logo.png
Balasfalvi-Lukacsi Mariann
2023-02-07 11:58:53
2023-03-16 12:03:31
Number of SPAR stores to accept used household oils grows to eighty