Most food waste in Hungary is generated by households, amounting to 65 kg food on average per household that ends in the bin every year.[1] Not conscious consumer decisions make not only saving difficult, but also contribute to GHG emissions that drive climate change. Plan smart! by Nestlé Hungary and SPAR supports the development of environmentally aware consumer habits by niche information and budget-friendly practical ideas.
In total, around 1.8 million tonnes of food waste is generated in Hungary every year, and a family of four throws away around HUF 50,000 worth of excess food in that time.[2] This wasteful attitude makes it harder to fight hunger and increases greenhouse gas emissions by at least 10 percent,[3] although it could easily be avoided with a little care.
A joint publication by Nestlé Hungary and SPAR Hungary helps to promote sustainable diets and prevent food waste. The Plan smart! guide provides specific, useful tips on how to store food correctly, how to increase shelf life, how to buy in an environmentally friendly way and on selective waste collection. The booklet will help readers find current fruits and vegetables in season, the meaning of the labels on the packaging, how long products can be consumed after the best-before date, and what types of plastic can be recycled. This way consumers can make more informed choices, finding out how to save money and energy by protecting the environment, and support smallholders in the domestic agricultural sector.
Joining forces for more sustainable customer decisions
This is not the first time Nestlé has released an awareness-raising publication. In 2019, Nestlé published its first guide on selective waste collection, followed in 2020 by a joint effort with SPAR to produce a summary entitled How to be an environmentally conscious consumer? with tips on sustainable living. This year's guide is a continuation of this joint work as the focus is expanded to include food waste.
"It is rare to find an industry partnership nowadays that creates value like the one between Nestlé and SPAR. Our aim is to show that we are stronger together and we can make a real positive difference by pooling our resources," said Noémi Csóka, Corporate Communication & CSV Manager at Nestlé. – The latest publication will be available not only online and as a supplement of certain magazines, but also in SPAR stores, giving consumers wider access than ever before."
Building on the booklet, the two companies announced a nationwide school challenge in 2021, in which children could learn the basics of green living and selective waste collection. "The popularity of our initiative has confirmed our belief that there is a need for education on environmentally conscious lifestyles, and that we can also show the way for the future generation," said Márk Maczelka, Head of Communications at SPAR Hungary. "That is why we teamed with Nestlé to launch our fun challenge for schoolchildren again this year, where participating classes receive useful tools to help them learn an environmentally conscious attitude," – he added.
A cross-platform initiative
The school campaign for valuable prizes is just the beginning: the companies aim to spread the message of environmental awareness widely, as a more sustainable future requires reaching out to all social groups and all ages. To this end, the content of Plan Smart! will be disseminated in magazines and online channels.
Sustainability is also a strategic objective for SPAR Hungary in its commercial activities, food production, waste management and energy use. The company expands its sustainability initiatives every year: reducing the use of environment impacting substances, using energy-saving solutions in its store network, supporting local businesses and suppliers, and backing social causes. In all its endeavours, it reinforces its commitment to protecting the environment and, not least to positively affect the mindset of its employees and customers.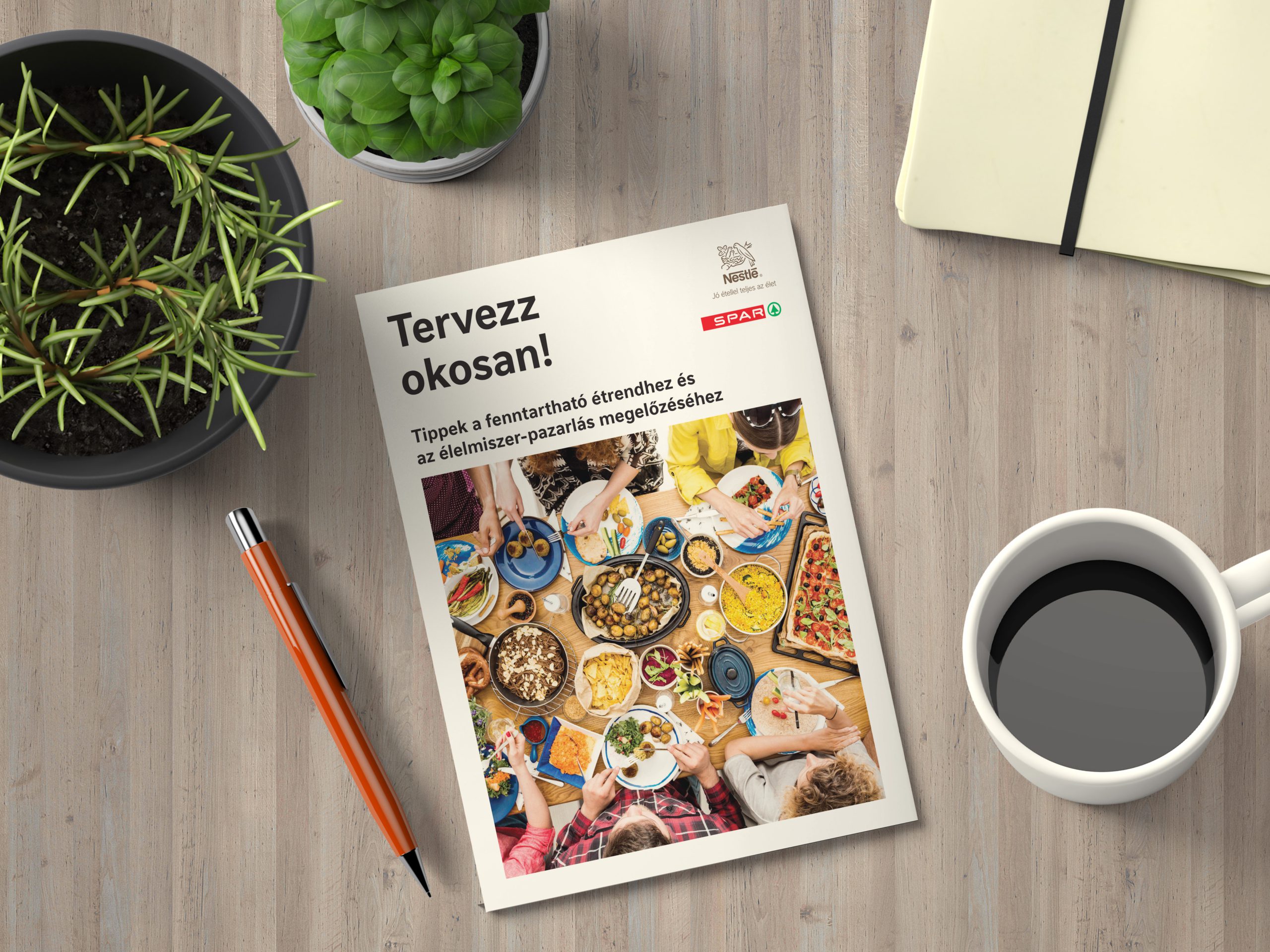 The Plan Smarter! guide is available at www.nestle.hu/tervezzokosan and www.sparafenntarthatojovoert.hu/tervezzokosan, and will also be available in print in selected SPAR and INTERSPAR stores.
[1] Source: https://maradeknelkul.hu/
[2] Source: https://maradeknelkul.hu/
[3] Source: https://www.elelmiszerbank.hu/hu/hirek/hireink/4_millio_kilo_elelmiszert_mentettunk_2022_elso_feleben.html
https://bcsdh.hu/wp-content/uploads/2022/01/Nestle-1.png
170
450
Balasfalvi-Lukacsi Mariann
https://bcsdh.hu/wp-content/uploads/2021/12/bcsdh-logo.png
Balasfalvi-Lukacsi Mariann
2023-05-29 18:49:28
2023-05-29 18:52:16
Reduce food waste. Plan smart. – The latest awareness raising guide by Nestlé and SPAR is out!