BCSDH's Executive Board has decided in April to set up an Advisory Board in order to represent the increasing number of member companies more effectively, to contribute to their commitment towards the developement of the organisation's actions.
The members of the Advisory Board are active members of BCSDH and are representing a wide range of sectors: Sándor Baja (Randstad), Andrea Bujdosó (Shell), László Flórián (Rossmann), Ágnes Horváth (Progress Reastaurant Chain LLC. / McDonald's), Imre Horváth (METRO), László Török (Grundfos).
The Advisory Board includes one member delegated from the Future Leaders Talent program Alumni. After the assessment of the submitted applications, based on the votes of the Alumni members, Sarolta Katona (Budapest Airport) shall represent the young leaders of the program.
Their mandate shall be 3 years.
The tasks of the Advisory Board include attending the annual strategic board meeting of the BCSDH Executive Board, the strengthening of BCSDH's role through their personal relations and representing BCSDH at external events.
The corporate members of BCSDH's Advisory Board: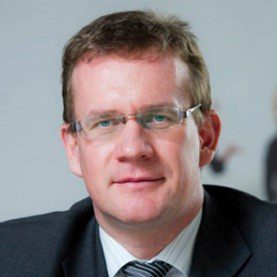 Sándor Baja
Managing Director
Randstad Hungary
The Hungarian subsidiary of Randstad, the world's second-largest consulting company, is managed by Sándor Baja. Prior to working at Randstad, Sándor Baja was the regional operational director of LG Electronics. He has previously gained experience in the FMCG sector as the marketing director of Eckes-Granini in France and as commercial director of Borsodi Brewery. In 2004, his book was published about his professional business experiences with the title Marketing adventures – Brands in Practice from Budapest to Paris. He obtained a degree in International Economics with an excellent qualification in Moscow, then graduated also from the Paris Chamber of Commerce and Industry.
Andrea Bujdosó
Chairman of the board, Sales excellence lead – EMEA
Shell Hungary Zrt.
Andrea Bujdosó has joined Shell Hungary Zrt. in 2009. She was responsible for the road transport area of ​​euroShell Card in Hungary and Romania and then managed the entire euroShell Card of the two countries. From the beginning of 2012, her responsibilities also covered the management of the Bulgarian euroShell Card. From 2014 she supports the development of sales excellence in the B2B areas. In 2017 she became the Chairman of the Board of Directors of Shell Hungary Zrt. In addition to this role, she continued to work as a leader of sales areas in Europe, the Middle East and Africa. She started her career in sales in Romania, Timişoara and from 1997 she had worked for 10 years at Xerox Hungary Ltd. in sales and marketing and business management positions. She studied at the IT Department of the University of Timisoara and also finished an MBA program at the Open Business School.
László Flórián
Managing Director
Rossman Hungary
László Flórián has been the managing director of Rossmann Hungary since 2012. Until the end of last year, he was also responsible for the Czech market of the company and at his former job at Baumax, he also worked as a sales director for the Romanian subsidiary. Thanks to these, his experiences in negotiations has also been strengthened internationally.
As an executive, his goal is to perform better than the competitors every year. But in addition to increasing market share, he also considers quantitative and qualitative expansion, innovative marketing and communication, an ever-expanding and innovative range of products and consistent pricing policies. He prefers putting the decisions into practice as soon as possible. If the consumer does not perceive the change on his own skin, then the action is worth nothing.
Ágnes Horváth
Managing Director, Progress Restaurant Chain LLC (McDonald's)
founding president, Ronald McDonald House Charities
As a freshly graduated food engineer she accidentally found a job advertisement at one of the McDonald's restaurants in Budapest. The brand was always close to her heart and the opportunity for progress convinced her to immediately apply for it. As a systematic person, she could easily adapt to the company. A year after joining the company, she became a restaurant manager, since 2001 she has been an operational manager and since 2005, she has been responsible for managing the operations of the entire Hungarian network.
Since 2010 she's been the managing director of the company and is responsible for the McDonald's brand in Hungary. Beyond maintaining a high level of operations considering their restaurants and supply network, as a responsible company, they are actively working on keeping the guidelines of sustainable development in all areas of their business. They are committed to working together on issues that are important to all. She sees the Ronald McDonald's House Charities the heart of their brand, it has a special place in their lives.
Imre Horváth
CEO
METRO Cash & Carry Hungary
Since November 2013, he is responsible for METRO's team, which contains 2500 people who work every day to support the success of more than 400,000 regularly served customers. During his professional career, he has gained marketing and sales experience considering both professional and managerial skills in four industries, from the FMCG, telecommunications, financial and commerce sector. He spent more than eight years as a manager in foreign countries, in London, South East Asia and Israel. Recently, as a member of the international METRO Sustainability Council, he has had the opportunity to influence the continuous development of the corporate group. In addition to his family programs, he spends his free time outdoors, mostly with a bike or near water.
László Török
COO Office Operations Director
Grundfos
He started his career as a mechanical engineer at Videoton Zrt., then continued as a general deputy director at one of the Holding's companies. From 2000, he worked at Tatabánya for Grundfos Hungary Kft., and from 2008, he is the managing director of the company. From 2019 he is the Operations Director of the Grundfos Group's COO Office. Meanwhile, he attended the Grundfos Academy's "Self and People Management" training and as of 2009, he is taking part of the talent management program of the group as a developer-appraiser. He graduated from the American University of Purdue in 2008 with an Executive MBA degree. He was born in Târgu Mureş, is 48 years old, married and a father of two children.
The Alumni member of the Advisory Board:
Sarolta Katona
Financial analysis manager
Budapest Airport
She started working as a trainee at Budapest Airport in 2008, then worked as a junior financial analyst, senior financial analyst positions until 2019, when she has become a financial analysis manager at the Controlling Department. She graduated from the Future Leaders Talent Program in 2017 and has since been an active member of Alumni. She completed her studies at the Corvinus University of Budapest, where she obtained a Master's degree in Economics in 2010 with excellent qualification.
https://bcsdh.hu/wp-content/uploads/2019/06/supervisory_vegleges.png
579
594
Takacs Ivett
https://bcsdh.hu/wp-content/uploads/2021/12/bcsdh-logo.png
Takacs Ivett
2019-06-17 17:03:57
2022-09-19 14:56:46
BCSDH's Advisory Board has been established